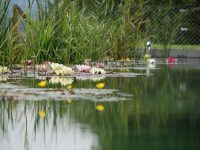 Mať dom so záhradou a bývať mimo centier rušných miest je snom stále väčšieho počtu ľudí. Po náročnej práci si potrebujeme oddýchnuť a výborný relax ponúka práve pobyt v záhrade. K príjemnej atmosfére pomáha nie len pohľad na zeleň, ale aj prítomnosť vodného elementu. Záhradné jazierka sa stále častejšie stávajú súčasťou oddychových záhrad.

Nemusíte byť práve milovník každodenného plávania, aby ste si jazierko obľúbili. Pohľad na vodnú hladinu, sčerenú vánkom, vo vode sa mihotajúce ryby a farebné vodné rastliny vytvoria tú správnu atmosféru. Správne postavené záhradné jazierko zapadne do vašej záhrady, ako keby tam bolo odjakživa. Stačí vhodne vybrať aj ďalšie rastliny a stromy a rozmiestniť ich tak, aby sa prirodzene dopĺňali. Kombináciou s ovocnými stromami tak docielite nie len okrasný efekt, ale aj úžitkový ráz svojej záhrady.

Pri chove rýb v záhradnom jazierku musíme myslieť aj na to, že je potrebné vodu filtrovať a čistiť. Sčasti nám s tým pomôžu aj vodné rastliny. No vyplatí sa celkom určite inštalovať malý kompresor na občasné prevzdušnenie vody, najmä v lete. Naopak v zimnom období nesmieme zabúdať na ohrev vody pre záhradné jazierka, aby koikapre alebo iné ryby mali pohodlie a v jazierku nezamrzli. Správna veľkosť a hĺbka jazierka pomáha predchádzať zamŕzaniu, ale môžu prísť na pár dní extrémne silné mrazy a vtedy sa ohrev vody bude hodiť.
Záhradné jazierko si môžete nechať navrhnúť a postaviť špecializovanou firmou doslova na kľúč. Alebo sa môžete do jeho návrhu a výstavby pustiť sami. Ak máte za sebou realizáciu nejakej stavby, určite to zvládnete, keď vám to vaše časové možnosti popri práci dovolia. Všetko potrebné pre vybudovanie a prevádzku svojho záhradného jazierka ponúka eshop Numa.sk. Na vás zostane dodať invenciu a energiu, priložiť ruku k dielu a už nedlho sa môžete pozerať na pokojnú vodnú hladinu jazierka vo vašej záhrade.