V záložni začnete fotografovať najlacnejšie
|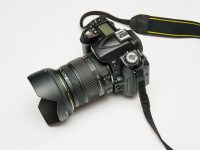 Fotografovanie je záľuba, ktorá už uchvátila nejedného človeka. Pretože dnes nie je potrebný fotoaparát, vývojnica na film ani tmavá komora so zväčšovákom, vývojkou, ustaľovačom a množstvom vody ani drahá leštička na papierové fotky, je začať fotografovať veľmi ľahké. No ani dnes to nemusí byť úplne lacné. No na každú situáciu existuje prijateľné riešenie.

Aby ste zistili, či vás fotografovanie naozaj bude baviť, nepotrebujete minúť majetok. Počítač väčšina ľudí dnes už vlastní a používa, takže digitálne fotografie si budete mať kde pozerať aj archivovať. A fotiť sa dá aj mobilom, len na ňom si nenastavíte ani expozičný čas ani hĺbku ostrosti pomocou clony. Chce to predsa len nejaký fotoaparát.
Ideálne zrkadlovku s výmennými objektívmi. Ale aj tie najlacnejšie zrkadlovky môžu byť pre niekoho celkom drahé. Na druhej strane aj mnoho kompaktných fotoaparátov s pevnými objektívmi dovoľuje aspoň obmedzene nastavovať parametre fotografovania. No stále sa bavíme o cenovej relácii prevyšujúcej sto eur. A ako cena za test, či vás bude fotenie baviť, je to stále veľa.
Navštívte záložňu vo vašom meste. V ponuke sa tam občas objavia aj fotoaparáty. Nie sú síce nové, no ich stav a funkčnosť si môžete vyskúšať vlastnými rukami, na rozdiel od internetových bazárov, kde kupujete mačku vo vreci. Pokiaľ je v poriadku objektív aj LCD displej, funguje ovládanie a ukladanie fotiek na SD kartu, tak nejaký prípadný škrabanec na obale predsa nemôže vadiť. Nezriedka dostanete aj za cenu dvadsať eur zaujímavý fotoaparát, ktorý poslúži vaším cieľom a dovolí vám preniknúť do tajov fotografovania za prijateľnú cenu. A keď takýto fotoaparát poškodíte alebo nebodaj stratíte pri potulkách prírodou, nebude to veľká škoda.
Za cenu medzi dvesto až tristo eur sa v záložniach vyskytujú aj staršie digitálne zrkadlovky s jedným objektívom. Na učenie sa ovládania zrkadlovky aj pochopenie vzťahov medzi clonou a ISO či časom expozície, na naučenie sa práce s hĺbkou ostrosti alebo pozorovanie prírody je to skvelá voľba za príjemnú cenu. A keď vás fotografovanie nebude baviť, malý kompakt niekomu podarujete a zrkadlovku odnesiete naspäť do bazáru alebo záložne.